PAX East starts today. Got in to Boston via the train yesterday.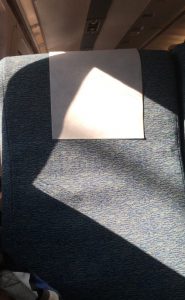 I am staying at an AirB&B in South Boston. Last year I was so lucky. I asked a FB pal if she knew anyone in Boston with AirB&B she said on those dates she was running in the London Marathon so I could use her place if I took care of her cat. Great place fun cat. This year…ewww
I've stayed at a few AirB&B places and most were people who were really hosts with a nice set-up. This place, I should not bitch because I could be staying at the Ritz for $1,000 a night, is part of the industrial gig economy. The house has three or four units. The one I am in is B which is a shared common area kitchen and living room and unit A. In A is a couple from Oregon who came out for PAX. The room I am in is 10'x10' bed and desk and closet. No dresser. The light in the room is an overhead with two 150 watt bulbs. No lamp to read with. The bathroom is across the hall. My own.
On the plus side:
Heat worked
Very clean
Fluffy Towels
Reasonably priced
Easy access to subway to get to PAX
On the other side:
Bed is a foam mattress on wooden slats that creeks like the floor boards in a Freddy Krueger movie
No dresser
Bathroom soap is a Reindeer Raspberry something
No coffee pot
Only one coffee cup
No napkins
Host was responsive to a point. I imagine he is busy with his other properties
I am grateful to have a place. I guess I just have to look harder next time. So getting ready to head to PAX and check it out. More later. Peace Out