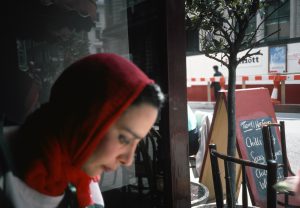 February 14th 2016 is Valentines Day for all of us. For Donna it would have been her 64th trip around the Sun. This annual sojourn of circling the Sun ended in 2011. Yet her ashes and memories continue to race through my personal solar system. "All we are is what we leave behind." I am left behind, your memory is not.
The memories (not just memory) of Donna, our time together, what we had, and what we didn't have arebits of flesh and fur snagged on barbed wire. At other times these memories are the interstitial pastures between the fences containing peace and comfort.
I smile remembering our Honeymoon in Greece. A warm Mediterranean afternoon napping in a cheap room on a beach listening to the buzz of Vespa's outside, except there was no doppler effect. With a start we realized no Vespa. It was a huge bee in the room racing around. Simultaneously we made the same shocked oh my face, latter named Bee Face. It was similar to Edvard Munch painting The Scream.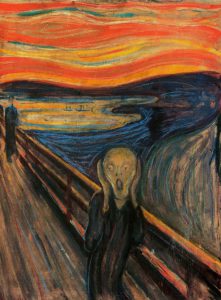 The bit of skin hanging on the barbed wire is knowing that is forever gone and never to be repeated. The pastoral moment is knowing it happened and smiling.
Lobsters, oh how you loved to have a lobster while we vacationed or for your birthday at the Palm. I would crack the claws for you. The smile and the yum on face was pure joy to see and hold in my memories.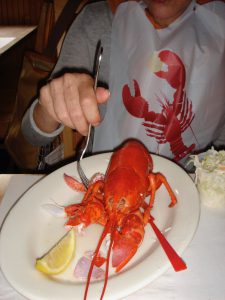 Did I offer you enough lobsters during your 59 trips around the Sun?
Naming pets was your speciality. The key in your mind was looking at the face and naming the pet accordingly. Nina was the perfect name for this face. I wonder if we had children how long you would wait to name them because all newborns are ugly.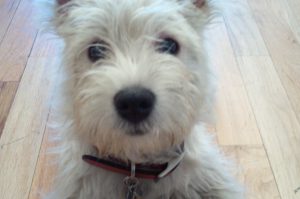 [i carry your heart with me(i carry it in]
i carry your heart with me(i carry it in
my heart)i am never without it(anywhere
i go you go,my dear;and whatever is done
by only me is your doing,my darling)
i fear
no fate(for you are my fate,my sweet)i want
no world(for beautiful you are my world,my true)
and it's you are whatever a moon has always meant
and whatever a sun will always sing is you
here is the deepest secret nobody knows
(here is the root of the root and the bud of the bud
and the sky of the sky of a tree called life;which grows
higher than soul can hope or mind can hide)
and this is the wonder that's keeping the stars apart
i carry your heart(i carry it in my heart)